Welcome!
We appreciate your interest in IGEL!
We are happy to welcome you to our website and thank you for your interest in our program. Hopefully you will find everything you are looking for.
We curated a selection of most vital information about the program, reports about current events and a selection of publications.
Please do not hesitate to contact us with any question you might have.
E-Mail: igel@ph-weingarten.de
IGEL-Program
The University of Education Weingarten (UEW) offers an initiative to integrate teachers trained abroad within the German school system: the IGEL program. By completing this program, participants ultimately have the opportunity to work in Germany as fully qualified teachers. Additionally, the program itself also serves as a prerequisite into teacher training offered at the UEW.
It is funded by the DAAD (German Academic Exchange Service), within the framework of the Integra, Welcome and Profi initiatives. All of which are measures taken by the DAAD to offer foreign academics a fast track to earning a university degree or certificate at a German institution of higher education. Originally conceptualized for academics with a refugee background, the program has since been opened to migrated academics as well.
In March 2019, first participants started with a pre-entry course preparing for later entry during the current semester, followed by the second cohort (project duration 2019-2020) in August 2019.
Participants during the second project period (2020-2022) could benefit from an extended preparation and support program. Thanks to renewed project funding, support was possible for both winter semester 2022/23 and summer semester 2023. Application period for a new cohort in the upcoming winter semester 2023/24 started in late July, ended on August 21st.
Brief descriptions and further information can be found by clicking on the respective headings below.
DAAD: Refugees at higher education institutions
Our project is substantially funded by the DAAD. In collaboration with universities all over Germany, various support programs were implemented with the aim to strengthen the potential of academically qualified refugees and provide them access to higher education. Find out in more detail by clicking here.
---
Goals and target groups
The teaching profession in Germany is subject to training and recruitment requirements regulated by state law.
Professionals holding teaching degrees earned abroad often need to take part in post-qualification measures in order to be allowed to pursue the teaching profession in Germany. This usually includes postgraduate studies.
To that end, IGEL prepares students for a lateral entry into higher education and assists them during post-qualification by various support services.
With the IGEL program, UEW contributes to the successful integration of refugee and migrant teachers into German school systems and promotes adequate integration into the labor market.
Reciprocally, participants provide examples of how everyday and professional life in Germany can be positively shaped against the backdrop of being refugees or migrants. Through their involvement in school, they can also serve as role models for various groups of students and thus contribute to a successful integration.
By federal educational law, studying UEW qualifies for teaching in Baden-Württemberg only. Participants, aiming to work as a teacher in another federal state, have to participate in a federal state specific program accordingly.
The following chart provides an overview of programs currently available in Germany. All of which form a Germany-wide network for professional exchange, with IGEL being a part of it.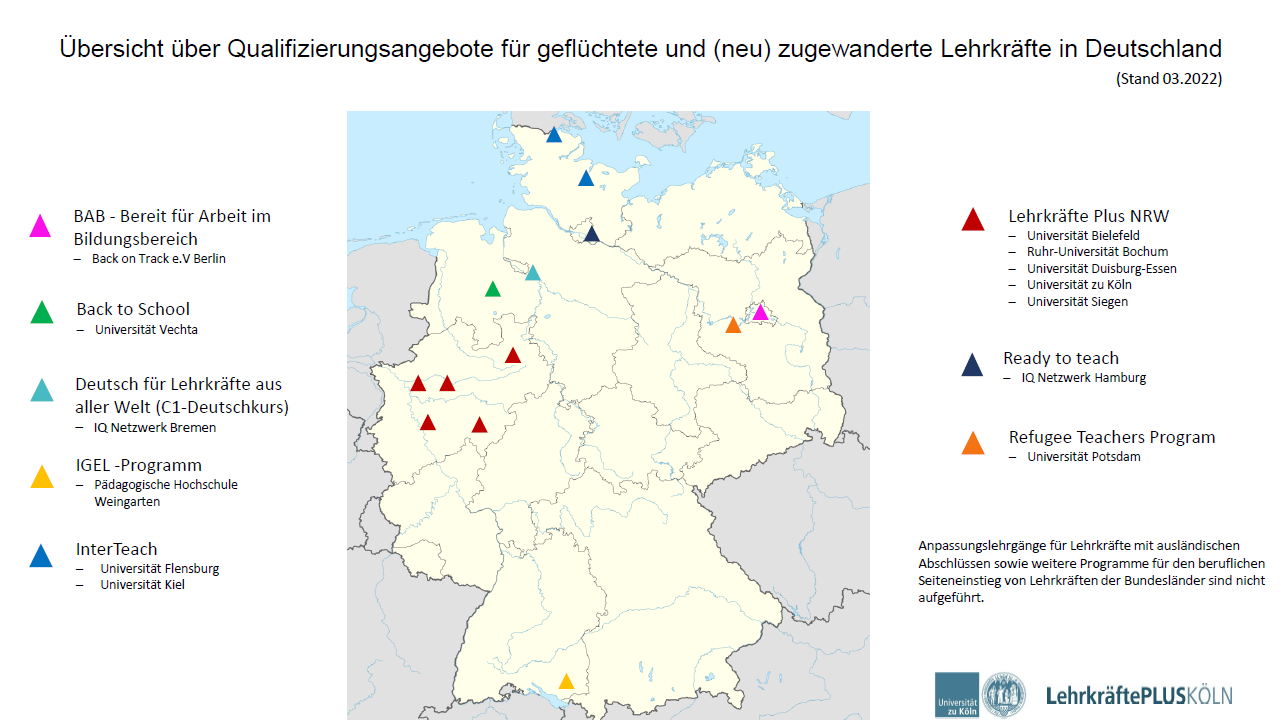 Program's Structure
It contains of three phases:
Preparation for lateral entry into studies at the UEW through a three-month preliminary program
Various support and guidance services during the postgraduate studies at the UEW
Support during career entry
A three-month preliminary program includes
(1) a three-week course 'Language of Education & Science'
(2) an eight-week pre-course in educational science
(3) as well as various workshops
Content and scope of this program are identical for all participants, taking place online and ending with a written exam. Passing the preliminary course exam is obligatory for subsequent lateral entry into studying at the UEW.
The IGEL program is a teaching-learning arrangement that allows for individual adaptation, depending on each participant's individual situation. This adaptation is achieved by offering three different models: IGEL Classic, IGEL Light and IGEL All. Each model differs in terms of scope according to accredited degrees attained earlier.
After completing classes, all participants benefit from the extensive support and offered guidance.
Participants have then the opportunity to enter school services. Depending on individual needs for post-qualification, entry is possible via the regular preparatory service of the state of Baden-Württemberg, via an adaptation course/aptitude test, or as a direct entry.
Graduates apply for a position in school services in competition with all regular applicants.
The following graphic illustrates this whole progress described above.

Summer School 2022 :
Together with other projects dedicated to the integration of refugee teachers, the IGEL project part of a "Nationwide Network for Qualification Programs for International Teachers". Within this network, exchange takes place on a wide range of program-related topics (e.g. program design and accompanying research). Furthermore, political work as well as events for further education and training are planned and carried out withing said platform.
This included the Summer School "Professionalization of School Competencies" at the University of Siegen, which took place from July 15 to 16, 2022. Among all participants also 4 students from the project IGEL were present. Participants from all institutions used the opportunity for professional development and exchange with other international teachers and through their participation made a valuable contribution towards a successfull event.
Funding